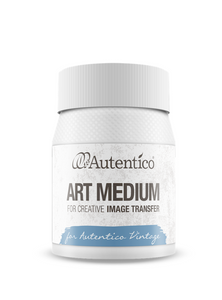 This Autentico Art Medium allows you to get really creative with your decor! Similar to transfer methods used in fine art painting, this medium allows you to transfer a printed image onto your surface, so now your decor can be personalized with your own photography or texts giving rise to a world of possibilities.  
Imagine decorating a baby's room with print outs of the papers from the day they were born, or making a border for a dressing table in the bedroom from your wedding photographs, the only limit is your imagination.  Any printed image may be transferred with ease onto other surfaces including wood, glass and painted finishes. 
Instructions:

Simply print a picture in reverse on your printer (remember to reverse the picture beforehand especially if it contains any lettering). 

Cut around your printed work and apply a smooth coat of Art Medium onto the motive, using a wide, soft brush.

Place the picture on the required surface, glued surface down, and smooth the paper very well. Make sure that there are no air bubbles and likewise, no glue should be available on the white side. Remove any excess glue immediately with a moist cloth.

Allow it to dry totally for 24 hours.

Dip a sponge into water, not too wet, and moisten the paper until the dissolving of paper starts. Now you have to rub off the paper with your fingers in order to develop the motive completely. Continue until there is no paper left. 

When the picture is dry, a white membrane will appear which cannot be rubbed off. Therefore, a thin coat of Art Medium has to be applied, which will produce a clear appearance of the picture.