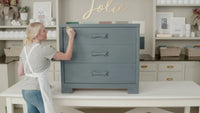 Jolie Paint
Jolie paints, brushes, and complementary products are developed with the customer in mind to make it easy to refresh your furniture and transform your home. Expertly designed to provide exceptional versatility, coverage, and durability, Jolie products allow anyone to be creative and achieve breathtaking results. Coming soon Wall Paint, Hardware and Tile!

AVE HOME
Ave Home(ah-vey)developed out of a passion for antique furniture and a desire to make classic design more accessible. Founded by Scott and Lisa Rickert, the New Orleans based company launched in 2016 with an assortment of living and dining room furniture. Today, Ave Home is expanding its product offerings with historically inspired pieces that are classic yet current – a mix of timeless silhouettes and exquisite finishes with modern elements. Ave Home is committed to providing quality, well-designed pieces that our customers will cherish for years to come.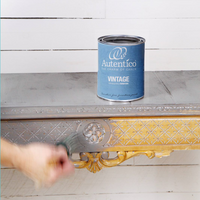 Autentico Vintage Paint
Updating your furniture is easy with this professional chalk based paint which provides superior durability and the ease of creating authentic heirloom finishes. With a palette of over 150 colors your only limitation is your imagination.
Featured collection - Nora Murphy Country House Paintbox
Reimagined Furniture
Do you have a well crafted piece furniture that needs a refreshed look?
See how Foxtrot Home has reinvented vintage and antique interiors by creating inspired heirloom finishes using Jolie, Amy Howard and Autentico Paints and Products.